Feed additive Cyclization Thermostable Phytase/themostable feed enzyme
Basic Info
Model No.: Activity:5000-10000U/g
Product Description
<
h5>
Detailed Product Description
1 Best thermostability
2 No coating, active conformation state
3 pH:2.5-6.0, optimum 5.0
4 Strong resistance against DE&MI

Habio Bioengineering cooperated with Feed Research Institute of Chinese Academy of Agricultural Sciences and launched a series of Habio Phytase products in July 2004. Until 2005, Habio has became the domestic leading brand in feed additive field in China. The products were sold to more than 28 countries and territories since  March 2005. Habio promoted novel products such as thermostable granule and liquid Phytase in Sep. 2006. Habio has already obtained the best reputation because of the excellent quality and competitive price in China.
                              Habio Cyclization Thermostability Phytase
Mechanism 
    The large portion of total phosphorus contained in the plant ingredients is in the form of phytate-phosphorus, accounting for about 50%-80%. Phosphorus is an essential nutrient for animal growth. Phytate-phosphorus must be hydrolyzed to inorganic phosphorus in order to be utilized by livestock and poultry. Due to the lack of phytase in monogastric animals, the utilization of phosphorus present in plant feed ingredients is limited. Thus, feed companies have to add costly inorganic phosphorus into feeds. But the animals will release most phytate-phosphorus and unabsorbed inorganic phosphorus into the environment which will cause environmental pollution and phosphorus waste. The addition of exogenous microbial phytase into livestock/poultry feeds can enhance digestion of phytate-phosphorus, thus which can reduce environmental pollution, level of costly inorganic phosphorus in feeds and feed cost, increase the utilization efficiency of minerals, protein and other nutrients and expand dictary formulation space to improve feed quality.
    The new technology of directed molecular evolution of enzyme has become a hotspot of research in the world to improve the enzyme efficiency. In this field, leading subject is the cyclization of protein, which not only is a basic research for developing new generation of technology, but also bears a significant role in promoting the growth of enzyme-related industry.
    Habio cyclic thermostability phytase is a new kind of cyclic protein based on the protein self-splicing. The two ends of phytase were linked with the N-terminus and C-terminus of protein "intron" intein respectively to construct the expression vector of fusion gene. The fusion protein was induced to overproduction and cyclized by self-splicing of intein. Comparing with linear protein, the conformation changeability of cyclic protein is reduced and the enzyme is in an active state. As results, the stability and activity of cyclic phytase are much better. With no need of coating, Habio cyclization thermostability phytase can be released fast in gastro-intestinal tract of animals, biology efficiency is enhanced distinctly in the same time.
    The N-terminus and C-terminus of cyclic protein was linked without any change of three-dimensional conformation (as following figure), thus kept the protein in active state.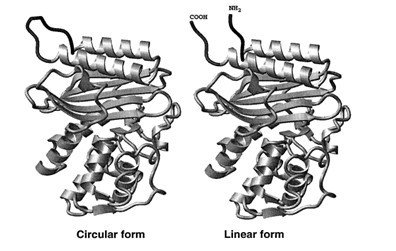 Stability
 To confirm the thermostability of Habio Cyclization Thermostability Phytase, Habio has done numbers of enzyme remaining rate test experiments under different temperature and humidity. The result is as follows:
Remaining activity after processing 5min under 85% humidity and different temperture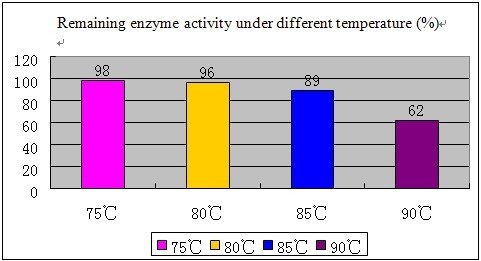 Remaining rate of different brands after processing 5min under 85% humidity and different temperture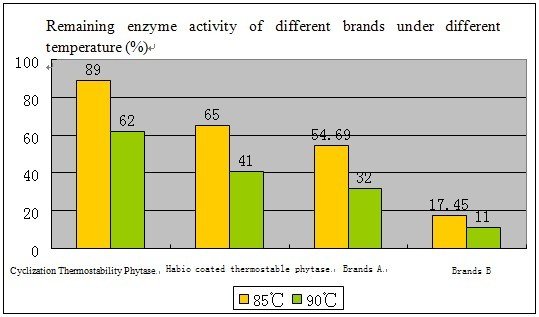 Superior Quality
1,Higher thermostablity and higher remaining rate after feed granulating compared with other similar products.
2,there is no change on the three-dimensional conformation of Habio cyclic thermostability phytase;  Protein will not lose activity, having more stable performance. Higher biological efficiency could be achieved by combining and decomposing substrates more effectively and no need to release in animals' the gastrointestinal tract because of no more coating.
3,Habio Cyclization Thermostability Phytase can not only improve the stability, but also improve the biological value of phytase. .
Usage
Animals

Dosage in complete feed (g/t)

Phytase activity in complete feed

Instructions

Pigs

100

500

Pelletizing

after premixing

Poultry

100

500
Notes: the Specific amount is determined by feed ingredients, processing conditions, expectations of the effectiveness and feed cost.
Package and Storage
Packaging: 25kg/bag or 20kg/barrel
Store under sealed, room temperature condition for 12 months (less than 25 °C)
Avoid to be exposed to the sun, rain, high temperature and high humidity
Technical service
Offering phytase usage formula, enzyme activity test method and related product technical service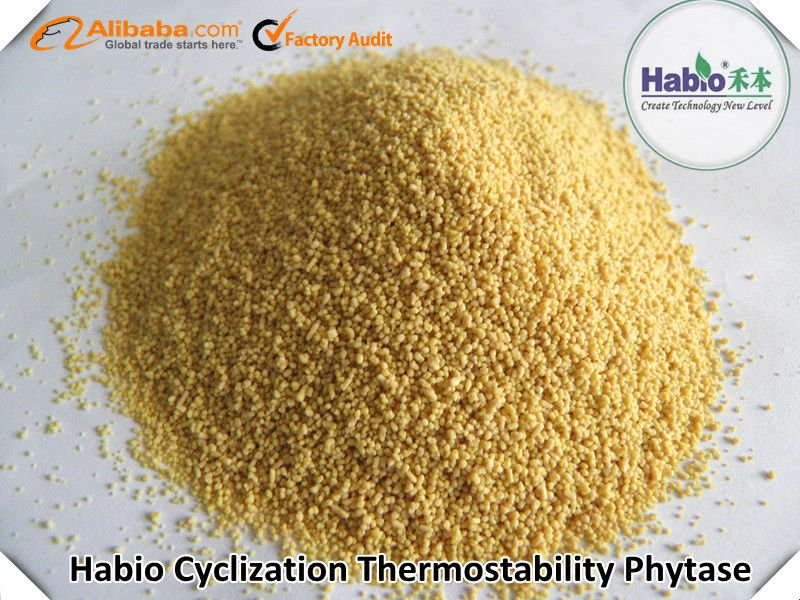 Product Categories : Feed Aplication > Habio Amylase