Food grade additive Lipase for bakery chemical/agent/enzyme
Basic Info
Model No.: 5,000U/g-20,000U/g
Product Description
<
p>
Mechanism and Product Features
:
Lipase is developed by Sichuan Habio Bioengineering Co., Ltd for animal with modern genetic engi-neering, microbe fermentation and advanced post-process technology. Lipase is the fundamental enzyme in lipometabolism, and it can hydrolyze fat into non-esterified fatty acid, glycerin and monoglyceride. Adding to wheat flour can catalyze lipids hydrolyzation and im-prove taste and appearance of the bakery product.
Product Specifications:
The pH curve of the Habio Lipase:
Wide range of pH, higher activity under pH range from 3 to 11, have better function in animal digestive tract.
The influence of the temperature:
Influences of high temperature and high humidity to Lipozyme: broad range of temperature and activity, excellent thermostability, more than 85% activity residual rate after 85ºC pelleting process.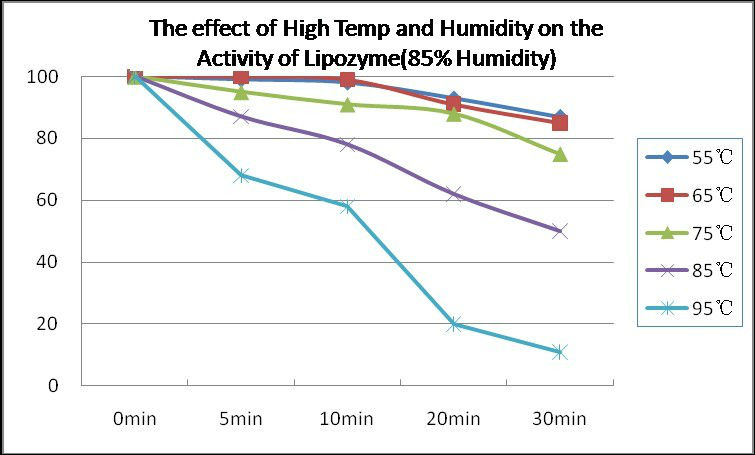 The storage stability:
Under 35ºC room temperature 12 month, the remaining activity is above 85%.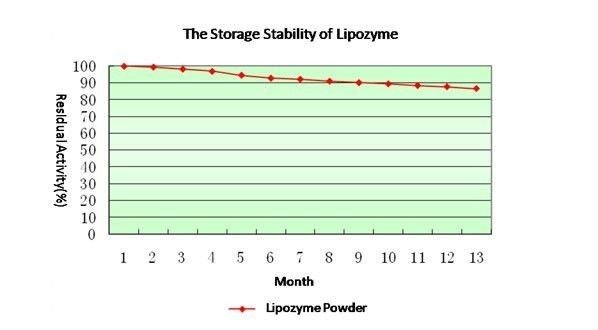 Activity definition:
One unit (U) of lipase is defined as the quantity of enzyme, which liberates 1μmol titrable fatty acid per minute from substrate at 40ºC, pH7.5.
Specification:
Specification

 

Original activity(U/g) 

 Color 

Mesh size

Package 

Powder

  100,000 Powder


110,000

Yellow

 

>60

 

 20kg/bag

 

 

50,000 Powder

55,000

 Liquid

50,000 Liquid 

 60,000

Yellow

 /

 30L/Plastic barrel
| | |
| --- | --- |
| Mesh Size | 60 Mesh |
| Humidity | ≤10% |
| As Content | ≤3.0 mg/kg |
| Heavy Metal Content (Pb) | ≤5 mg/kg |
| Salmonella | None |
| Coliforms | ≤3000 CFU/100g |
| Aerobic Plate Count | ≤5×104 CFU/g |
| Diarrheogenic Escherichia coli | None |
Usage and Dosage:
1.Suggesting Dosage: For 100000u/g lipase, adding 0.1-2 gram in 100kg wheat flour. (1-20ppm).
2.The adding dosage would be decided by some trail since the wheat flour may different from are-    as. Over dosage may decrease the water retaining capacity of the dough.
3.To mix well purpose, enzyme diluting by flour would better be done by 1:10 step by step dilu-tion.
4.Contact period of enzyme and pulp: 1 hour
5.Dilute process: Recommend 1:10 stepwise dilution when mix enzyme and the wheat flour.

Caution:
Enzyme is an active protein. It may cause allergy for some of the sensitive people. To avoid contact with the human mucosal tissue, such as eyes, skin and nose. Suggest operation wear a mask.
ontact period of enzyme and pulp: 1 hour


Product Categories : Food Aplication > Habio Bakery Enzyme