Basic Info
Model No.: Granule/ powder/ liquid
Product Description
<
p style="word-wrap: break-word; font-family: arial; line-height: 18px; text-align: center;">
  Habio lipase(Food Grade)
Habio lipase is developed by Mianyang Habio Bioengineering Co., Ltd with modern genetic engineering, microbe fermentation and advanced post-process technology, which can catalyze lipids hydrolyzation, esterification, and transesterification. Habio lipase has many advantages, like efficient reaction, Mild conditions, and nonpoisonous side effect. It can be widely used in food, tannage, detergent additive, paper deinking, biodiesel, etc.
Product Characteristics
1. Habio lipase is from two strains (CRL,TLL). Either has different enzyme features and enzyme activity distribution. High specific activity and high stability complement each other's advantages.
2. Excellent thermostability and high enzyme activity at 37°C-60°C. The enzyme activity remains over 90% after being kept at 95°C for 10 minutes and 80% after 5min under 85°C and 85% humidity.
3. A wide pH range of activity. High enzyme activity under pH 2.5 to 11.5 help to play a better role in different lines.
4. Top liquid submerged fermentation with chosen genetic engineering bacteria as material makes high stability and efficiency.
Product Functions
1. Flour improving agent: Habio lipase has satisfactory emulsifiability. It can effectively improve quality of all kinds of flour, like magnifying loaf volume, optimizing gluten matrix to make it exquisite and make mouthfeel better, slow down evaporating of moisture around crust, prolongs its shelf life, improve smooth finish and whiteness of noodles and make a better flexibility and mouthfeel, improve internal construction of steamed buns and promote quality performance of velvety and brilliant crust and great tasting, promote.
2. Tanning industry: Habio lipase can catalyze lipids in leather hydrolyzation, decrease the using amount of chemical materials and environmental pollution. It can  make degreasing and dyeing more even, make the soaking process more rapid and even. It will decrease expansion during soaking in lime process, which is beneficial to dispersing of lime and sodium sulfide. It makes the softening process more gentle and even. These effects bring up performances like smooth surface and clean grainflat, enhanced flexibility and intensity, higher gain rate of leather. The collagenous fiber is protected and the using effects more clear and safe. Habio lipase can be widely applied in tanning prepar workshop section, like degreasing, soaking, soaking in lime process, softening, etc. Meanwhile, it can be used in conjunction with protease according to different process requirement.
3. Other industries: Habio lipase can catalyze lipids hydrolyzation efficiently. It also can be used in dairy food, liquor flavor enhancers, producting lipids into fatty acid and glycerine, petrochemical engineering, cleaning medical equipment, washing greasy dirt, deinking waste paper, etc. to meet different processing.
Specification and Usage
Packing and Storage
Packaging: 25kg/bag, 30kg/tank, or 2200kg/barrel.
Store under sealed, room temperature condition for 12 months (less than 25°C).
Avoid to be exposed to the sun, rain, high temperature and high humidity.
Technical Service
Supply lipase formula, activity test and other technical service related to the product to ensure high efficiency.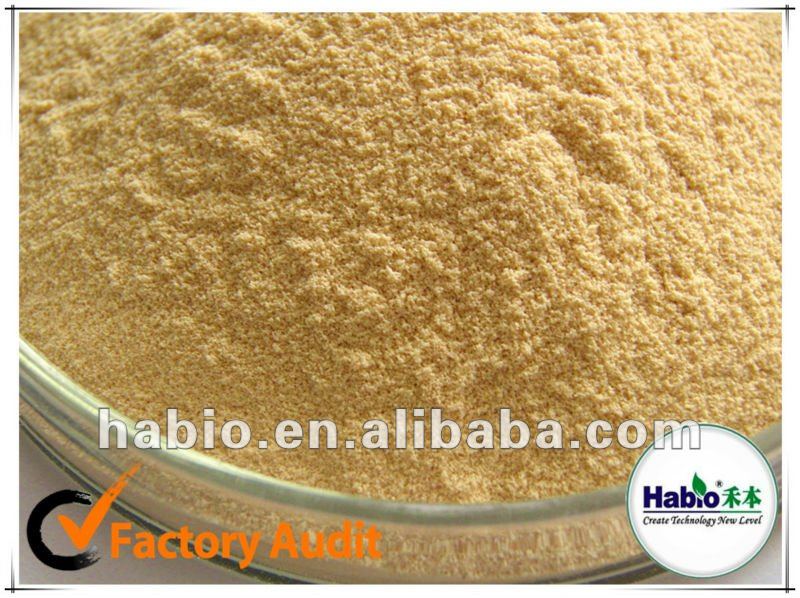 Product Categories : Food Aplication > Habio Bakery Enzyme