Basic Info
Model No.: Powder/Granule/Liquid
Product Description
<
div id="ali-title-companyInfo" style="margin-top: 15px; margin-bottom: 7px;">                                                                  
High activity lipase enzyme
 HABIO, it means "Happy  Biology".
 *  13years manufacturing Feed enzymes experience since 2002. 
 *  8000-9000 metric ton per year fermentation volume and produce capacity  more than 25000 metric ton per year different enzyme.
 *   Annual revenue about 15million USD, expot sales is occupied 45%.
 *   11 types of single enzymes produced from more than 70types of  strains  including:Phytase,cellulase,xylanase,Beta-glucanase,beta-mannanase,Alpha-galactosidase,lipase,catalase protease,amylase,glucose oxidase and multi-enzymes,applying in feed industry,food,textile,detergent,paper,brew industrial and so on.
 *   Enzyme Formulation: powder,micro-granule,granule,coated granule,liquid,immobilized-granule. 
 *   Grade of Enzyme: industrial,feed,food.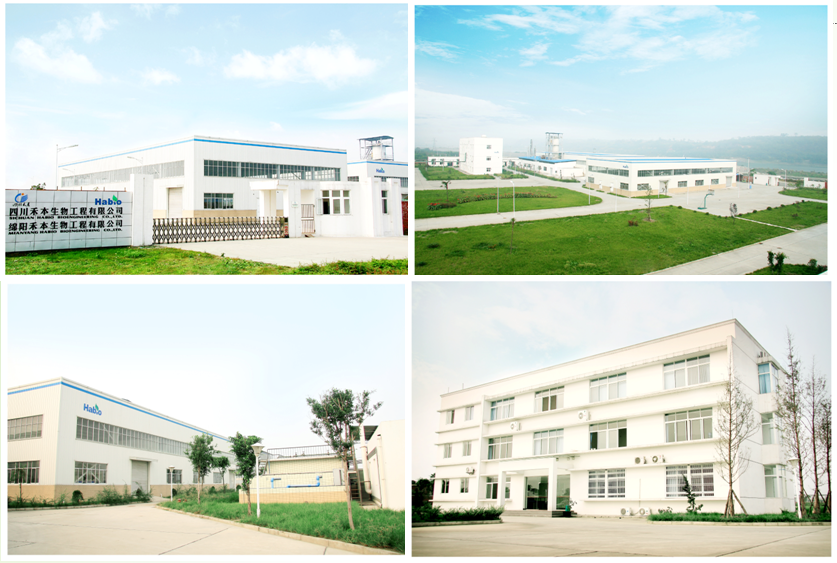 Products Certification
 ISO9001-2008
 ISO22000
 FAM-QS
 HACCP
 INTERNATION STANDARD PRODUCT MARKING CERTIFICATE
 KEMIN EXCELLENT SUPPLIER  PROVINCIAL  FAMOUS BRAND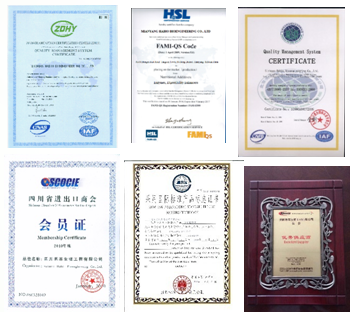 Lipase can catalyze lipids hydrolyzation, esterification, and transesterification. Habio lipase has many advantages including efficient reaction, working on mild conditions, and no poisonous or any other side effects. It can be widely used as food, tonnages, or detergent additive, or in paper deinking, biodiesel industry, etc.
Definition of enzyme activity
Lipase: One unit (U) of lipase is defined as the quantity of enzyme, which liberates 1μmol of titratable fatty acid from olive oilat 40℃ and pH7.5 in 1min
Product characteristic
 1. From two strains (CRL,TLL). Both of them have different enzyme features and enzyme activity distribution. And they can complement each other's advantages.
 2. A wide temperature range of activity; excellent thermostability; High enzyme activity at 30°C-70°C.
 3. A wide pH range of activity. High enzyme activity under pH 2.5 to 11.5 helps to play a better role in different lines.
 4. Top liquid submerged fermentation with chosen genetic engineering bacteria as material makes high stability and efficiency.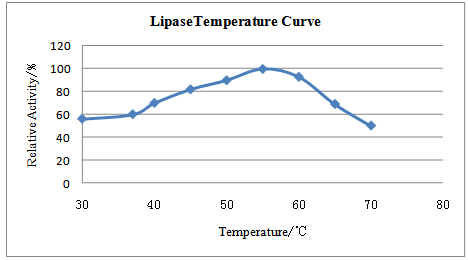 Graph1 Habio Lipase Temperature Curve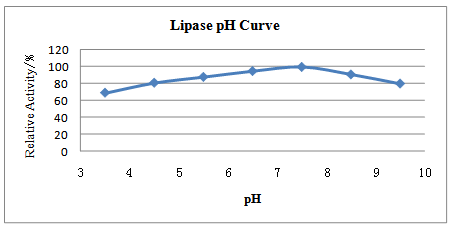 Graph2 Habio Lipase pH Curve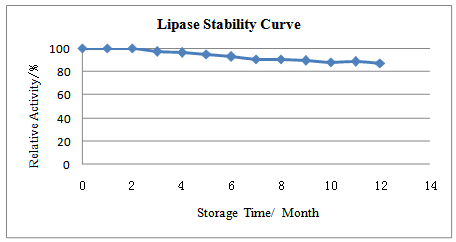 Graph3 Habio Lipase Stability Curve
Table 1 The effect of metal ion on the enzyme activity of lipase
Metal Ion

Concentration/mol.L-1

Relative enzyme activity/%

comment

Fe2+

Ba2+

Mg2+

Ca2+

Mn2+

Cu2+

Zn2+

Pb2+

Li+

Na+

K+

Ag+

EDTA

Control

10-3

10-3

10-3

10-3

10-3

10-3

10-3

10-3

10-3

10-3

10-3

10-3

10-3

/

51.54

86.90

116.77

185.61

75.04

91.24

38.32

56.33

95.23

125.47

135.49

86.72

103.71

100.00

-

-

+

+

-

0

-

-

0

+

+

-

0
Note: + stands for positive effect, - stands for negative effect; 0 stands for unobvious effect( within 10%)
Product Functions

1.   Flour improving agent:  Habio lipase has satisfactory emulsifiability. It can effectively improve quality of all kinds of flour including magnifying loaf volume, optimizing gluten matrix to make it exquisite and make mouthfeel better, slowing down evaporating of moisture around crust, prolonging its shelf life, improving smooth finish and whiteness of noodles to make a better flexibility and mouthfeel, and modifying internal construction of steamed buns to promote quality performance of velvety and brilliant crust and great tasting.
2.   Tanning industry:  Habio lipase can catalyze lipids in leather hydrolyzation, decrease the using amount of chemical materials and environmental pollution. It can make degreasing and dyeing more even, make the soaking process more rapid and even. It will decrease expansion during soaking in lime process, which is beneficial to dispersing of lime and sodium sulfide. It makes the softening process more gentle and even. These effects bring up performances like smooth surface and clean grainflat, enhanced flexibility and intensity, and higher gain rate of leather. The collagenous fiber is protected and the using effects are clearer and safer. Habio lipase can be widely applied in tanning preparing workshop section, like degreasing, soaking, soaking in lime process, softening, etc. Meanwhile, it can be used in conjunction with protease according to different process requirement.
3.  Waste paper deinking:   Habio lipase can hydrolyze the connection between printing ink and cellulose to make it lose,so it is easier to separate printing ink and cellulose to get rid of ink molecules.
4.  Biodiesel:   Habio lipase is added in methanol and oil to produce biodiesel (fatty acid methyl ester) and glycerin.It is a catalyst in this process which plays the role of esterification and transesterification.
5.  Other industries:   Habio lipase can catalyze lipids hydrolyzation in high efficiency. It also can be used in dairy food, liquor flavor enhancers, producing lipids into fatty acid and glycerine, petrochemical engineering, cleaning medical equipment, washing greasy dirt, etc. to meet different processing.
Specification and Usage
Name      

   Habio Lipase

Activity

   10000-100000u/g (GBT23535-2009)

Usage

Flour process: 3-5ppm for steamed buns and noodle flour,  10-20ppm for bread flour (1-2g/100kg for flour), 0.3-0.5% for flour improver.

Tanning: used in conjunction with protease, and lipase should be 10% generally of total enzyme amount. Other industries: used properly based on working conditions.
Package and Storage
Packaging: 25kg/bag; liquid lipase: 30kg per plastic barrel.
Store in original package under sealed, room temperature condition for 12 months to solid form, and 6 months to liquid form (less than 25 ℃).
Avoid to be exposed to the sun, rain, high temperature and high humidity.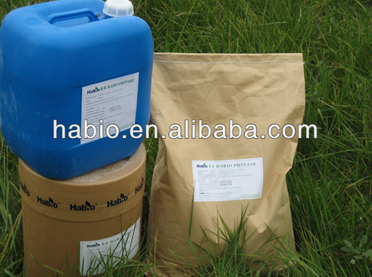 Technical Service
Offer lipase usage formula, enzyme activity test and related product technical service to ensure the using result.
Sales Network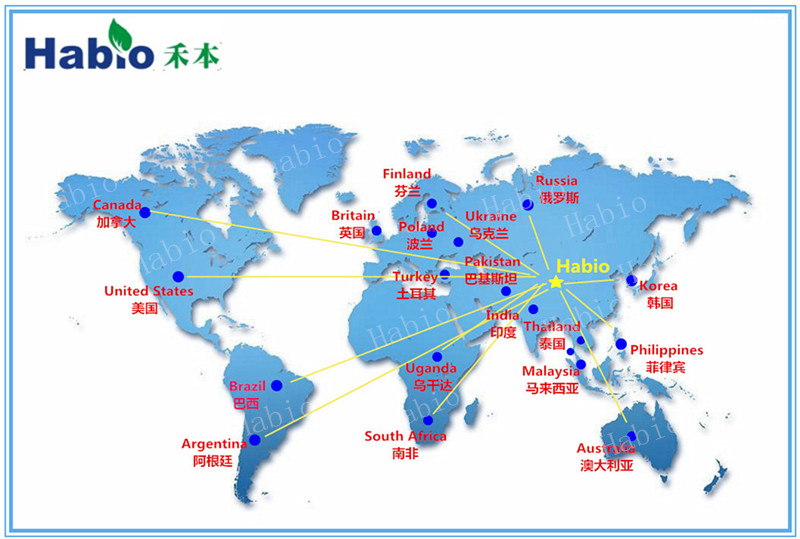 Exhibitions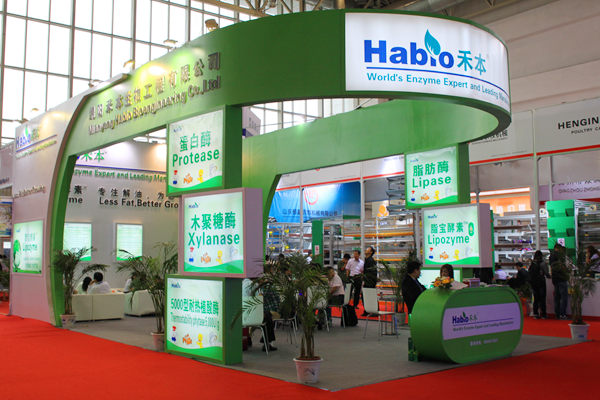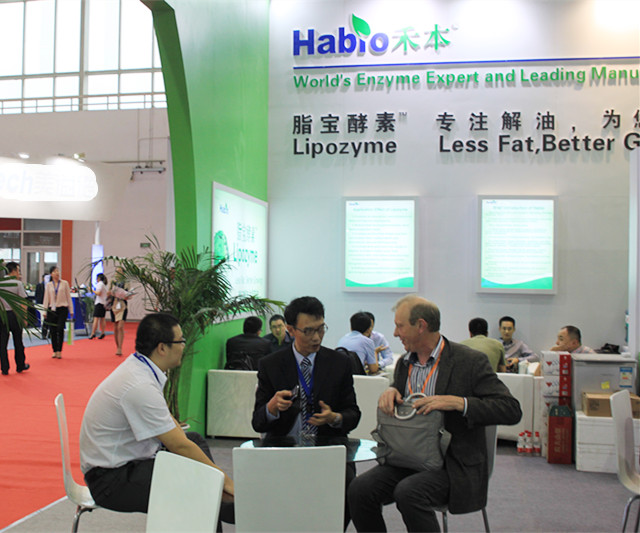 We are your resistent supplier offering high-efficiency solutions to feed fat.
Product Categories : Food Aplication > Habio Brewing Industry Enzyme