Basic Info
Model No.: Powder/Granule/Coated Granule
Product Description
<
p style="word-wrap: break-word; border: 0px; font-family: Arial, Helvetica; line-height: 15px; vertical-align: baseline; text-align: center;" align="left">
Feed/Feedstuff Additive Enzyme Xylanase  
Characteristics of Habio Xylanase
1.  Wide pH Range
The optimal reaction pH and temperature of Habio xylanase is 6.5 and 37, respectively (Figures 1). Although the gastrointestinal tracts of animal(livestock and poultry) are always under acidic condition (pH < 7), the acidic Habio xylanase can play better roles in animal(livestock and poultry) than other neutral or alkaline xylanases.
2.  Good Stability
Storage Stability
After storage for 12 months, relative activity of Habio xylanase is still more than 85%.
Thermal Stability
Habio high-yield Xylanase strain separated from tropical soil. Habio Xylanase has good thermal stability not only under dry condition, but also under damp-heat condition. Remained enzyme activity of Coated Xylanase is around 90%, regular granule is around 75% and powder is around 70% in environment of 80% humidity at 90 for 5 minutes.
Applications of Xylanase in feedstuff
Xylanase is the specific degradation enzyme of xylan which degrades xylan to oligosaccharides. Since animal(livestock and poultry) can not produce sufficient xylanase in alimentary tracts, the following effects can be achieved by adding exogenous xylanase to feeds:
(1)  Degrading xylans, thus efficiently decreasing chyme mucosity;
(2)  Enhancing chyme passing through intestinal tracts, thus increasing feed intake and production performance of animal(livestock and poultry);
(3)  Enhancing the contact of chyme with digestive enzyme and intestinal mucosa, thus increasing digestibility and absorptivity of nutrients;
(4)  Breaking down the structure of cell walls and releasing the inside nutrients, thus increasing the utilization efficiency of feedstuff;
(5)  Increasing the activity of endogenous digestive enzymes, thus enhancing digestibility of animals;
(6)  Inhibiting growth of anaerobic microorganism colonies, thus reducing the incidence of intestinal diseases;
(7)  Enhancing the digestibility and utilization efficiency of feeds, and increasing proportions of wheat bran, wheat middlings and other plant feedstuff, thus reducing feed costs;
(8)  Enhancing absorption of nutrients, thus reducing environmental pollution.
Product Stability of Xylanase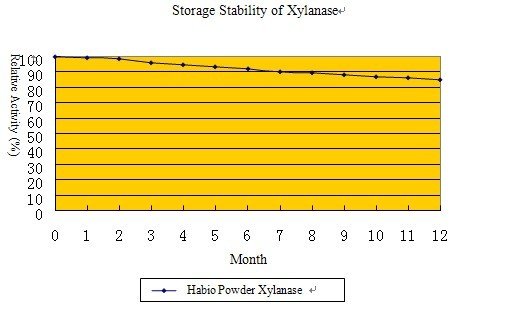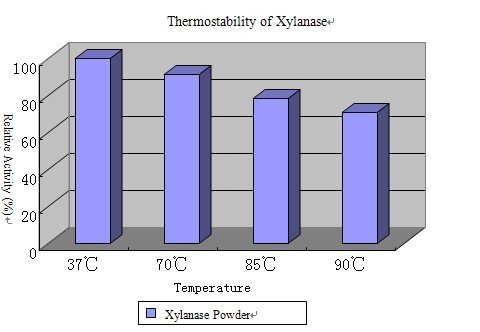 Specifications and Usage of Xylanase
Product Categories : Feed Aplication > Habio Xylanase