Wholesale Habio Xylanase Enzyme as animal feed ingredient
Basic Info
Model No.: Liquid, Powder, Granule, Coated
Product Description
<
div id="ali-anchor-AliPostDhMb-5iavb" style="font-size: 12px; font-style: normal; font-weight: normal; margin: 0px; padding: 8px 0px 0px; border: 0px; font-family: Arial, Helvetica; line-height: 15.6000003814697px; vertical-align: baseline; color: #333333;" data-section="AliPostDhMb-5iavb" data-section-title="Product Description">
The major role of Habio Xylanase is to eliminate anti-nutrient effect of xylan in animal Feed and improve the digestibility of feed, which will increase utilization of unconventional feedstuffs, reduce feed costs and improve feed efficiency.
1.        Origin from two kinds of bacteria strains, having different enzymic characteristics and different activity distribution; the advantage of high specific activity and high stability complement each other.
2.        The combination of high activity of endo-xylanase and exo- xylanase efficiently acts on soluble and insoluble xylan at the same time with high efficiency of hydrolysis.
3.        Better thermostability than general fungal xylanase. The relative enzyme activity remains over 80% at 80℃ of pelleting temperature.
4. A broad pH range of activity, thus helping play a role more effectively in the gastrointestinal tract of different animals.
5. Strong resistance to digestive enzymes, less negative effect from metal ions, and high storage stability.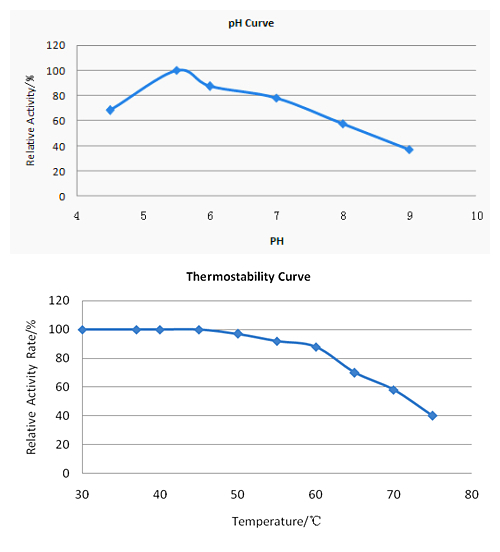 1. Degrading xylan to xylooligosaccharidespecifically, thus decreasing the viscosity of intestinal contents.
2. Balancing intestinal flora to improve animal immunity and reduce diarrhea ratio.
3. Increasing the diffusion rate of endogenous digestive enzymes, thus improving the nutrients digestibility.
4. Breaking down the structure of cell walls and releasing the nutrients inside, thus increasing the nutrients utilization efficiency of feed raw material nutrients.
5. Improving and ensuring the feed quality.
6. Improving the animal production performance to increase customer profits. 
Xylanase Form

Xylanase Activity

Usage

Powder

10000~400000U/g;

Suitable for pigs, chickens, ducks and other monogastric animals,  adding 100g/T or 100g/mL in complete feed ( calculating based on 10000U/g or U/mL xylanase)

Granule

Liquid

10000~50000U/mL;

Solid enzyme:25kg/Kraft-bag or 20kg/Barrel; 
Liquid enzyme:30kg/Plastic Plastic barrel or 225kg/Plastic barrel.
Store in original package under sealed, room temperature condition for 12 months to solid form, and 6 months to liquid form (less than 25 ℃).
Avoid to be exposed to the sun, rain, high temperature and high humidity. 
Offering Phytase usage formula, enzyme activity test method and related product technical service.
What we offer our customers, besides good quality and low prices, is expertise, service, custom-tailored-advice and logistic support. Welcome to contact with us in case of any need.
Basic information: Habio was established in 2002, located in Mianyang, Sichuan Province, China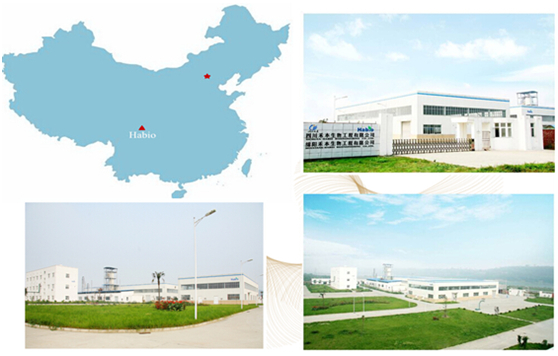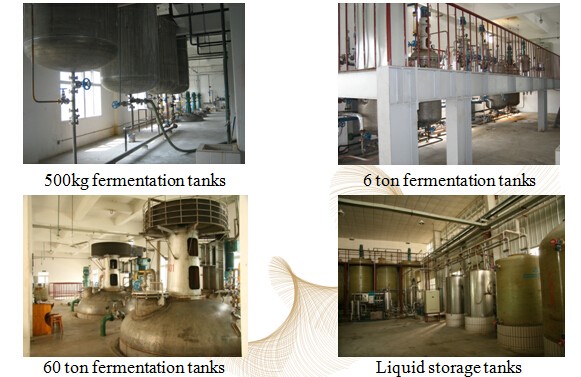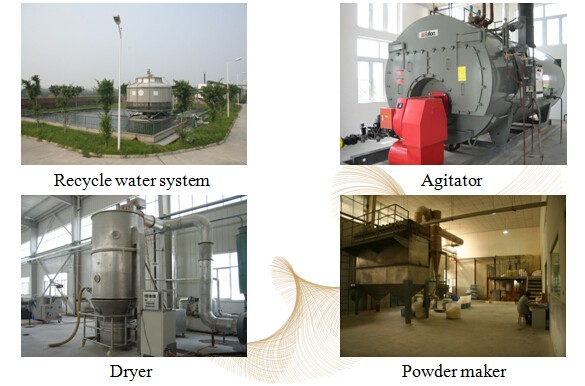 Main Product: Phytase, thermostabilty phytase, Lipase, Cellulase, Xylanase, Beta-mannanase, Beta-glucanase, Alpha-galactosidase, Protease, Pectinase,  Alpha-amylase, Catalase, Glucose oxidase, Multi-enzymes etc., for food, feed, and industrial grade.
Quality Certificate: ISO 9001-2008, ISO22000, HACCP, FAMI-QS, FDA etc.
Cooperation Partner: Kemin Industry, Cargill Feed, New Hope, Greatwall, SAMSUNG, LG etc.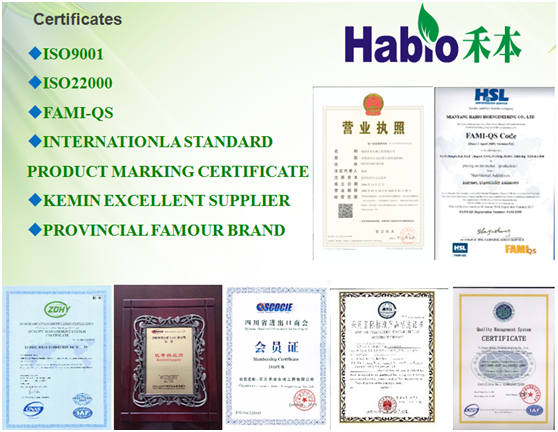 Habio adheres to the aim of "using science and technology to create a new elevation," willing to provide our customers with safe, high-efficient feed additive products and perfect technical support, in the hope of bringing customer significant economic benefits. 

Product Categories : Feed Aplication > Habio Xylanase