Basic Info
Model No.: Feed Grade,food grade
Product Description
<
div id="ali-anchor-AliPostDhMb-0cye4" style="padding-top: 8px;" data-section="AliPostDhMb-0cye4" data-section-title="Product Description">
Habio feed enzyme phytase is developed by Mianyang Habio Bio-engineering Co., Ltd. with several protein research institutions after many years of collaboration, using modern genetic engineering technology, microbial fermentation technology, and advanced postprocessing techniques.  It can release inorganic phosphorus through hydrolysis of phytic acid, thus improving its utilization, decreasing the usage of inorganic phosphorus sources, and reducing the cost of feed formulas. Being a green, efficient additive of livestock and poultry feed, it could also reduce the phosphorus in animal waste emissions and protect the environment.
One phytase feed enzyme unit (U) is defined as the amount of enzyme which liberates 1μmol inorganic phosphorus per minute from 5.0mmol/L sodium phytate at 37℃, pH5.5.
1. Uniform enzyme activity, more efficient.   
2. High storage stability and thermostability, easy to transport, process and store.
3. Broad pH range of activity; the optimum temperature is close to animal body temperature.  
4. Strong resistivity to digestive enzymes, less negative effect from metal ions.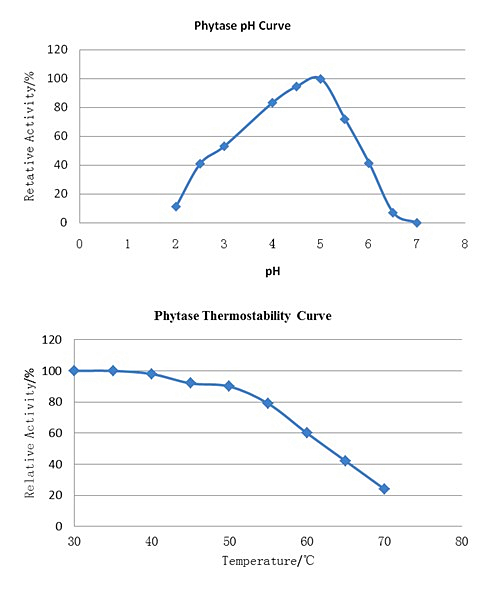 The Effect of Metal Ion on the activity of Habio Phytase
Metal Ion

Concentration C/mol.L-1

Relative activity/%

Evaluation

Mg2+

Mn2+

Cu2+

Co2+

Ca2+

Fe2+

Al3+

Zn2+

Control group

10-3

10-3

10-3

10-3

10-3

10-3

10-3

10-3

/

138.32

112.53

79.03

114.99

102.53

109.67

92.09

90.86

100

+

+

-

+

0

0

0

0

0
Note: + refers to activation; - refers to inhibition; 0 refers to no obvious impact (the effect on enzyme activity is within 10%)
1. Decomposing phytic acid of plant feed components, thus releasing inorganic phosphorus for direct utilization of livestock and poultry.
2. Decrease dosage of costly inorganic phosphorus in diets and reduce feed costs and using space-saving formula to ensure or improve effect of breeding.
3. Promoting utilization of minerals, protein, and other nutrients to improve production performance of animals.
4.Significantly improving biological utilization ratio of dietary phosphorus and reducing the discharge of inorganic phosphorus in animal waste emissions.
| | |
| --- | --- |
| Types | Activity(U/g) |
| Powder | 5000; 100000 |
| Granule | 5000; 10000 |
| Liquid | 5000; 10000 |
Usage
Animals

5000U/g dosage in complete feed (g/T)

Enzyme activity in complete feed(U/kg)

Instruction

Pigs

100

500

Fit for all feed products (compound feed, concentrated feed and pre-mixed feed), mainly added in powder feed

Egg layers

60

300

Poultries

100

500
Notes:The actual amount is determined by feed ingredients, processing conditions, expected effectiveness and the cost of feed.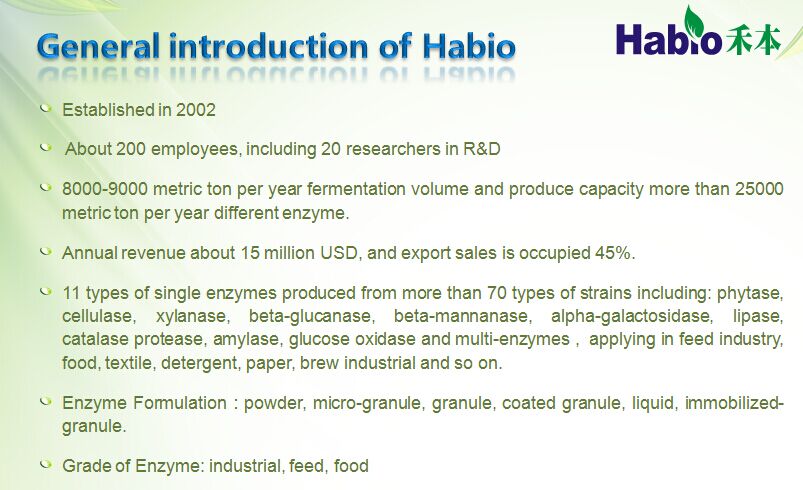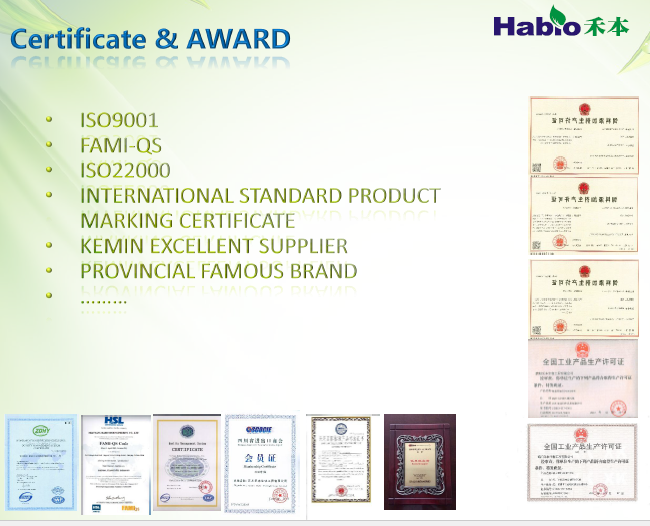 M
ianyang
Habio Bioengineering Co., Ltd
.
                                                  Tangxun Town, Fucheng District, Mianyang, Sichuan, P.R.C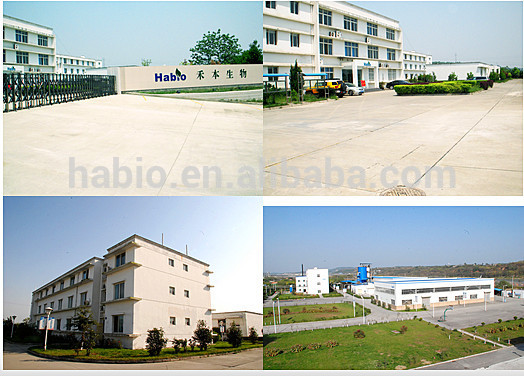 Please contact Mr.Jerry to more information.Skype:jerry140526.
Product Categories : Phytase > Normall Phytase