Product Description
<
p style="line-height: 20pt; text-indent: 24pt; margin: 0cm 0cm 0pt; ">
Habio cyclic thermostability Phytase is a new kind of cyclic protein based on the protein self-splicing. The two ends of phytase were linked with the N-terminus and C-terminus of protein "intron" intein respectively to construct the expression vector of fusion gene. The fusion protein was induced to overproduction and cyclized by self-splicing of intein. Comparing with linear protein, the conformation changeability of cyclic protein is reduced and the enzyme is in an active state. As results, the stability and activity of cyclic phytase are much better. With no need of coating, Habio cyclization thermostability phytase can be released fast in gastro-intestinal tract of animals, biology efficiency is enhanced distinctly in the same time.
The N-terminus and C-terminus of cyclic protein was linked without any change of three-dimensional conformation (as following figure), thus kept the protein in active state.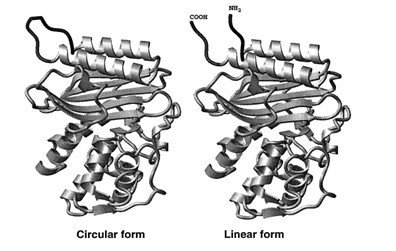 To confirm the thermostability of Habio Cyclization Thermostability Phytase,Habio has done numbers of enzyme remaining rate test experiments under different temperature and humidity. The result is as follows:
         Remaining activity after processing 5min under 85% humidity and different temperture.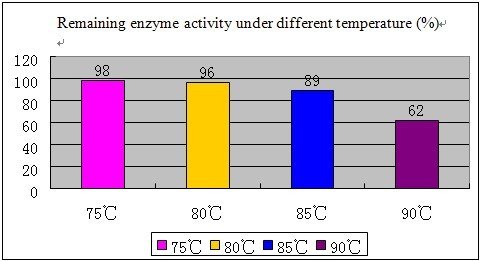 Remaining rate of different brands after processing 5min under 85% humidity and different temperture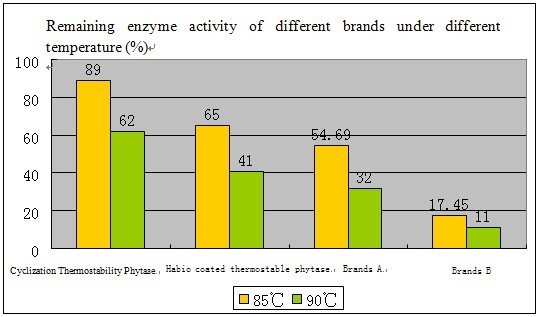 Superior quality
1,Higher thermostablity and higher remaining rate after Feed granulating compared with other similar products.
2,there is no change on the three-dimensional conformation of Habio cyclic thermostability phytase;  Protein will not lose activity, having more stable performance. Higher biological efficiency could be achieved by combining and decomposing substrates more effectively and no need to release in animals' the gastrointestinal tract because of no more coating.
3,Habio Cyclization Thermostability Phytase can not only improve the stability, but also improve the biological value of phytase. .
Product Categories : Other Enzymes