Basic Info
Model No.: 50,000U/mL, 200,000U/mL
Product Description
<
p>Habio catalase is developed by Habio with modern genetic engineering, microbe fermentation and advanced post-process technology, which can efficiently catalyze hydrogen peroxide (hydrogen peroxide) into oxygen and water, and can be widely used in textile, paper, electronics, food and other industries to remove hydrogen peroxide, a significant saving of water resources and reduce energy consume.
Activity Definition
One unit (U) of catalase is defined as the quantity of enzyme, which liberates 1μmol hydrogen peroxide per minute at 30°C, pH6.8.
Product Characteristics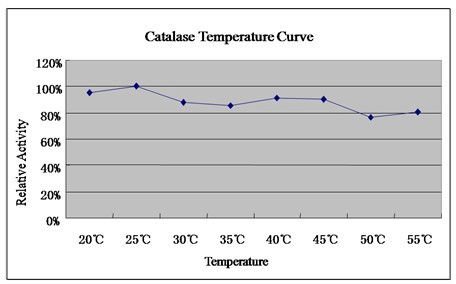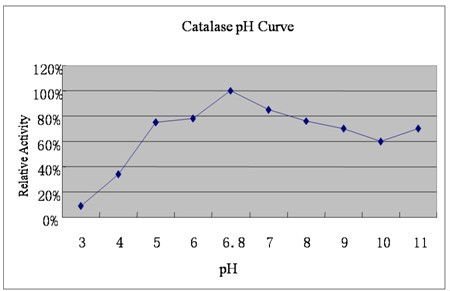 1. Exclusive microbial fermentation, good stability, high efficiency;
2. A broad temperature range of activity, excellent thermostability and high enzyme activity at 15°C-60°C;
3. A wide pH range of activity. High enzyme activity under pH 3 to 10, adapt to different industries;
4. High purity without impurities, good storage stability, convenient for transportation and storage.
Product Functions
1. Textile Industry: to remove hydrogen peroxide after bleaching and before dyeing, saving water, energy and time, not damaging the fibers and dyes, and do not pollute the environment;
2. Papermaking Industry: monitoring and optimizing the amount of hydrogen peroxide in bleaching process, degrading residual hydrogen peroxide after the bleaching;
3. Electronics Industry: to remove hydrogen peroxide after eroding germanium, silicon transistors and semiconductor components; saving water, energy and time;
4. Food Industry: to remove residual hydrogen peroxide after using it as bleacher, oxidation, starch denaturant and preservative in food processing; can be used for eliminating the special odor of hydrogen peroxide caused by ultraviolet irradiation in production of milk, egg products, cheese and other products; also used as leavening agent of baking food;
5. Hydrogen peroxide decomposition also applicable to other industries.
Specification and Usage
Type

Activity(U/mL)

Usage

Liquid

50000

200000

According to the specific circumstances of each industry (refer to the recommended dosage in Accessory 1), the optimum reaction conditions is 25°C, pH6.8, be compatible with the most commonly used active agents and hydrogen peroxide stabilizers.
Package and Storage
30L, 200L, Plastic containers;
Store under sealed, low temperature (4°C) condition for 6 months or room temperature (25°C) for 3 months.
Avoid to be exposed to the sun, rain, high temperature and high humidity.
Technical Service
Supply catalase formula,activity test and other technical service related to the product to ensure high sufficiency.
Accessory 1
Remarks
Detection method of Catalase activity is Na2S2O3-KI titration(enterprise standard).
Using the MERCK Hydrogen peroxide test strips to measure the residual H2O2 of samples:immerse the test strip in the samples and remove it after 1 second,compare it with the standard color card in 15 seconds,processing completed when the reading is zero.
Catalase Applications in Textile
It is very important to remove the impurities of cotton fabric before dyeing.Refining can remove wax,pection,and various pigments.Bleaching can remove residual impurities and cottonseed hulls.After bleaching,the residual hydrogen peroxide should be effectively removed.Otherwise,it will lead to color difference between batches and uneven dyeing.However,the traditional method requires a lot of water.
Now,Habio provide a bran-new and green technology for the dyeing and printing industry based on the catalase with its excellent quality
The advantages after adding catalase:
To maintain the consistency of color between each batch;
Uniform dyeing effect;
Reduce water consumption and energy consumption;
Environment friendly;
Shorten the process time and increase production.
Remarks
Calculated according to 1000kg fabric,bath ratio:1:10
Unit price:Water(including sewage):0.55~0.78USD/ton
                            Electricity:0.09~0.13USD/kilowatt-hour
                           Vapor:23.47~34.43USD/cube
                            Catalase(50000U/mL):2.03~2.35USD/Kg
Instructions
The following instructions are based on conventional technology and roduction conditions,according to local water quality and different mateials,please verify the actual usage based on the experiment conditions to adapt to the technology and purpose of users.
Catalase is appropriate for various intermittent processing equipments,such as purified cotton production,yarn dyeing machines,jet overflow dyeing,etc.
Bleed off the used oxygen bleaching liquid;
Cold water cleaning once ,or directly add cold water to fit the dyeing bath ratio.
Neutralizing with acid,control the pH in 6-8 and the temperature below 50°C,room temperature is recommended;
Adding 0.2-0.5g/L catalse (increase dosage to 0.5-3g/L for continuous device or some need of shorter processing time).There is no any risk to use catalase excessively.
Ater operating 10-20 minutes,chec whether the hydrogen peroxide has completely decomposed.(It can be checked by MERCK Hydrogen peroxide test strips)
Continue dyeing in the same bath.
Compatibility
Catlase activity can be reduced when pHexceed the range of 5 to 11,adding other chemicals may have an impact on its effectiveness,when the concentration of hydrogen peroxide greater than 1000ppm,the effect of
enzyme will be weakened.Catalse is compatible with most commonly used activators and hydrogen peroxide stabilizers.Its compatibility should be tested before volume-produce.
Product Categories : Other Enzymes